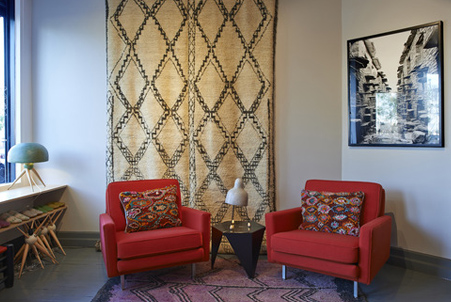 Breuckelen Berber was inspired by the founders' personal search for the perfect carpet. When seeking the ideal floor piece for their Brooklyn home, husband and wife design team Brin Reinhardt and Nathan Ursch discovered that locating the carpet of their dreams wasn't as easy as they expected.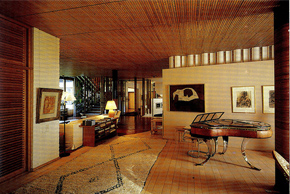 After considering many domestic options, their hunt led to Morocco, where they discovered the unique combination of tribal history and modernity found in Berber textile arts. The vintage Moroccan Beni Ouarain rug they purchased instantly became the hearth of their home, giving warmth, texture, and soul to their industrial urban space.
Brin, a native of upstate New York (whose long, cold winters may have led to her affinity for wool), studied textile design and interior design before heading west to California. In San Francisco she worked for retailer Design Within Reach, then in its infancy, and later took a role with textile company Maharam. After several years, Brin relocated to New York City, furthering her career in the design industry through advanced opportunities with both DWR and Maharam, as well as positions with Italian design brands Moroso and Flos. Brin's knowledge of and passion for textiles, interiors, and modern and vintage furniture are put to good use in her most recent pursuit as partner and co-founder of Breuckelen Berber.
Nathan was raised in the Midwest by a family of antique dealers, which sparked his appreciation for history and all things collectible at an early age. Through many buying trips to Chicago and the prairie states, the influence of Frank Lloyd Wright inspired in Nathan a lifelong interest in architecture and appreciation of modernism. Following a brief pursuit in architecture, Nathan moved to the west coast and worked for Amazon.com and other startup web development firms. Overcast weather and a desire to rekindle his design career set Nathan's eyes on New York City, where years as a design consultant and a long stint at Design Within Reach provided him with the experience needed to start his own company. As partner and co-founder, Nathan brings his broad modernist perspective and a deep knowledge of diverse styles of furniture and interiors to Breuckelen Berber.
With Breuckelen Berber, Brin and Nathan have curated a distinctive collection of hand-woven vintage Moroccan Berber carpets. Their aim is to connect the rich history of the rugs' origins and patterns with today's modern interiors. Whether laid on a floor or mounted on a wall, these carpets are art pieces whose inspiration, including archaic symbolism, asymmetric design, and bold color stories, is just as pronounced now as when these one-of-a-kind pieces were originally woven.