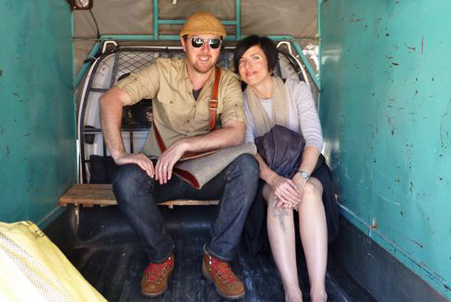 Breuckelen Berber began in 2011, inspired by the founders' personal search for their own carpet. After considering many domestic options, husband and wife design team Nathan Ursch and Brin Reinhardt discovered the unique combination of tribal history and modernity found in Berber textile arts. The vintage Moroccan carpet they purchased instantly became the hearth of their home, giving warmth, texture, and soul to their urban space. One carpet led to an introduction of many more, and Breuckelen Berber was born.
Nathan's background in architecture, design, antiques and furnishings combined with Brin's knowledge of textiles, interiors, and modern and vintage furniture lends a broad modernist perspective and a deep knowledge of diverse styles of furnishings and interiors to Breuckelen Berber. Completely owner run, Nathan and Brin personally manage all the buying on their travels in Morocco, meet with clients, photograph for the website, oversee cleaning and repairs, do on-site design consultations, pack shipments and handle local deliveries.
Breuckelen Berber offers a carefully curated selection of fine handwoven vintage Moroccan Berber carpets. Since its inception, Breuckelen Berber has become an esteemed resource for exceptional examples, working with discriminating interior designers, architects, stylists, residential and commercial clients, and collectors.